Electrical Systems Diagnostics & Repair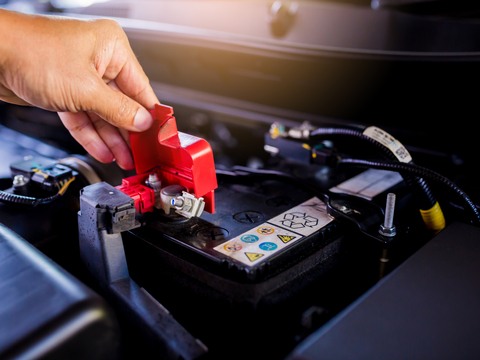 Having an electrical problem can become a serious issue if not addressed quickly by a professional. Your electrical system consists of many components that help make your vehicle run smoothly. The ASE-Certified technicians at Accurso Automobile Repair will perform a complete analysis of your car in search of potentially dangerous malfunctions that can potentially harm you and your family. Our electrical system repair and replacement consist of:
Battery
We've all been there, we come out of the store or work only to find our car won't start. It's especially frustrating when no one is around to give you a jump. This could end up being a dangerous situation for people stranded alone at night.
The battery is known as your spine. This is the part that supplies all of the power to your ignition and your starter. It also provides the extra power needed when your electrical system becomes overloaded. This is why you should consider having it checked regularly and replaced about every three years.
At Accurso Auto, our experienced technicians will test your battery and charge it to make sure it is working at peak efficiency. We make sure you get the best battery, so your car starts every time.
Alternator
For your battery to stay charged, you need a good alternator. If you crank your car and it has a hard time turning over, or some of your dash lights go out, it's time to get your alternator looked at before your car goes dead.
Think of this as your brain. Your alternator is your car's electrical charger. It is what helps power the electrical system of your vehicle. If your alternator were to become week, it would start to cause issues such as poor light operation, frequent light bulb replacement, dashboard warning lights, and a dead battery.
Starter
You can refer to the starter as the car's blood. Without blood, you wouldn't be living, correct? Well, the same applies to your vehicle. Your starter is what cranks the engine when the ignition switch is turned on. Without your starter working correctly, you wouldn't be able to go anywhere.
The symptoms of a faulty starter closely mimic those of the battery and the alternator. Sometimes it may start and sometimes not. Since it is hard to tell which component is giving you trouble, bringing it in for a diagnostic will save you a lot of heartache and money. Our guys can quickly locate the problem and get you going again.
Cables & Connections
These are your veins. Your cables and connectors are what hooks everything together. If these were to become rusty and corrosive, then it wouldn't matter if every other part of your system was working correctly because the signal wouldn't be able to transfer from one thing to another.
As you can see, your vehicle's electrical system plays a huge roll in making your everyday life simple. So contact Accurso Automobile Repair and see how we help in making sure that life continues.